Data Recovery Service for Mansfield Ohio
Businesses & Individuals
Because Losing Your Data is Simply Not an Option!
Call For A FREE Estimate Today!



File Savers Data Recovery Services


614-468-5517

Click For Office Address & Details


Free Evaluation
Guaranteed Recovery or No Charge
Manufacture Approved
Best Overall Value
Customer Recommended
Here Are Some FAQ's From Our Clients?
Question:

How much will the data recovery cost?
Answer: The cost to recover data from a hard drive is mostly based on the failure of the hard drive or RAID but there are some other factors that affect the price such as; device type, interface, total drive capacity, file system and if its encrypted or not. The proper execution of data recovery requires very expensive equipment, tools, a clean room facility and hours of specialized work from highly trained and experienced data recovery engineers.
Most hard drives that are 1TB or smaller will cost from $299 to $999 (depending on the failure) to successfully recover your data from it under our Budget Data Recovery Service. Faster service, larger drives, SSHD drives, SSD drives, encrypted drives and previously opened drives all have a higher top end price quote. RAID's, NAS devices and other types of server storage devices all cost more as well.
We will need to perform an evaluation (FREE TO YOU) of your hard drive, RAID, flash drive or camera card to correctly identify the failure. We will then provide you with a firm price based on the failure and service level you chose. FYI: It is impossible to perform an accurate evaluation of a RAID without moving through the entire recovery process due to the complex nature of a RAID, the way it stores its data and the different types of failures that we see.
Question: What Happens After the Evaluation Has Been Completed?
Answer: Your assigned data recovery adviser will call you back and go over our evaluation findings and provide you with a firm price to recover your data. You will then have the opportunity to decide if you want us to attempt recovery of your data or not. If you choose to have us attempt recovery of your data, we will move your media device to our recovery queue. The order of the recovery queue is a first come first serve system. It's also based on your chosen recovery service level. IE: Emergency, Rush and Standard cases will all move ahead of Budget Service cases in the queue.
Question: What happens if you can't recover my data?
Answer: We have a No Data No Charge policy! If for some reason, your data can't be recovered, we will not charge you anything for the recovery attempt. We guarantee we will recover our Mansfield, OH clients data or there is no charge.
Question: What if you recover only part of my data?
Answer: we can recover some of the data but not all of it. This largely depends on the severity of the failure and the amount of damage your platters have sustained when your drive failed. When we recover your files, we will check the file integrity by mounting and opening several random files. We also like to check the critical files that you provide to us if possible. If we recover all of the most critical files you asked for, you will be charged for the recovery even if there are a some non critical files not working.
If we recover only some of your important data you will be given the option to take the recovered data or not. In some cases, we may offer you a discounted price if you would like to take the partially recovered data. If you choose not to take the partially recovered data, you may walk away without any recovery costs to you.
Question: How Do I Get My Recovered Data Back?
Answer: For your convenience, we always recover your data to a brand new USB external hard drive or flash drive that you can purchase from us or provide to us. For urgent recovery situations, we can upload specific files (no more than 5GB of data) to our secure DropBox account where you can download them and get your time critical files even faster.
Question: How do I start the data recovery process?
Answer: Give us a call so we can get you an official quote along with the service options based on the size and type of your specific media device. Next, you will need to bring your hard drive your nearest File Savers location or ship your hard drive directly to our clean room lab with a Pre-Paid FedEx label that we will provide via email (Free For You). Once your media device has been received into our lab, we will perform the evaluation and provide you with a firm quote (usually the same day we receive your hard drive into the lab).
Why Is It Important For A Data Recovery Service To Have A Clean Room?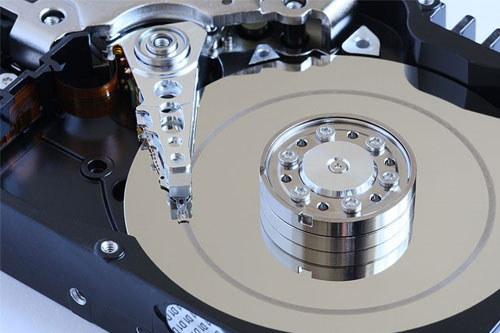 A data recovery clean room is a room or space that is virtually dust free. Dust is filtered out using advanced filtration techniques and technology. A data recovery clean room should also use anti-static technology. File Savers Data Recovery has ISO 5 Class 100 Clean Room technology with anti static floors to maintain a dust free and static free clean room environment where we can safely open and work on your mechanically failed hard drive.
This is important because of the technology that hard drives use to read and write data to the platters. If dust enters the hard drive at any point during the data recovery process the dust can cause the heads to crash on the platters which will cause irreversible damage (see the picture below) and likely make all your data unrecoverable. Our clean room environment allows us to open and work with your hard drive without causing additional damage during the recovery process.
Qualified To Handle Your Data Loss Situation?
If your laptop hard drive, desktop hard drive, external hard drive or RAID has failed and you need data recovery, your already dealing with a serious situation. The last thing you need is a computer shop, IT guy or friend in Mansfield to miss handle your data recovery situation and make it worse. We have an ISO 5 Class 100 Clean Room along with the worlds most advanced data recovery equipment, tools and utilities to assist our highly trained data recovery engineers in the safe and secure recovery of your failed hard drive, RAID or other media device type.
File Savers is a professional hard drive and RAID data recovery specialist with years of training, experience and development to become one of the known leaders in our industry. If it is possible to recover your data, we will recover it..... Guaranteed or there is no charge!
We Recover Data From All Hard Drive & RAID Failures


Is your hard drive or RAID failed? Is it clicking or not recognized? Was your laptop or external hard drive dropped? Did you accidentally make a mistake and format your hard drive or delete an important file or folder? Was your Mansfield Ohio based business or home involved in a flood , fire or other type of natural disaster? We can help!
Our data recovery engineers are experienced in recovering data from every type of hard drive or RAID failure situation no matter how serious. We recover data from failed, clicking, beeping, dead, not recognized, not spinning, dropped, deleted, formatted, not booting, boots in loop, blue screen, black screen, multiple drive failure, hard ware failure and file folder with question mark hard drives, external hard drives and RAID arrays. We even recover data from hard drives and RAID servers that have been involved in a flood, fire, lighting strike or other natural disaster in our ISO 5 Class 100 Clean Room for customer in and around Mansfield.
24/7 Emergency Response Data Recovery for Mansfield Businesses?


When you lose business critical data, you need someone you can trust to help you get that part of your life or business back quickly. File Savers offers a 24/7 Emergency service solution for Mansfield, OH businesses who need their data back immediately. Our technicians are on call and ready to provide you with the fastest data recovery services possible. Most recoveries are completed in 24 to 48 hours.
We provide data recovery services for all RAID servers and NAS storage systems including but not limited to; RAID 5, RAID 6, RAID 10, RAID 1 and RAID 0 from Dell, HP, Compaq, IBM, Buffalo, ESXi, and many more server brands. We also provide emergency data recovery services for all makes and models of desktop hard drives, laptop hard drives, external hard drives, flash drives and camera cards. Give us a call today to get pricing and additional information about our 24/7 Emergency Services for your specific device.
Click the Get Online Quote button to get your personalized and custom quote, data recovery service agreement and options or give us a call today.
Manufacture Approved to Recover Data From All Hard Drive Brands!